Mom bought the November issue of Bon Appetit this week when she stopped at the grocery store hoping it would cheer me up as consolation for her working so much this week (I don't understand the reasoning, but oh well.) Flipping through it in Spanish class I came across the recipe for CORNMEAL POUND CAKE WITH ROSEMARY SYRUP, POACHED PEARS, AND CANDIED ROSEMARY and just knew I had to try it. It serves 8, so I got home and asked "Mom, can Maddy and her parents come over for dinner on Saturday night? I have a dessert I want to make, and I haven't seen Maddy in forever!"

Now to the pears. To make the poached pears, you need:
3 cups water
2 cups sugar
1 cup Riesling
3 fresh rosemary sprigs
1 vanilla bean, split lengthwise
1/4 teaspoon whole black peppercorns
8 Forelle pears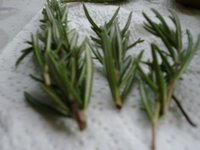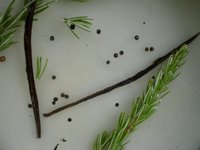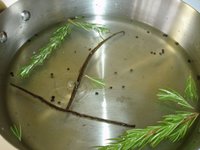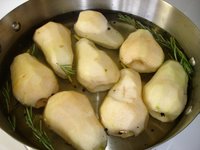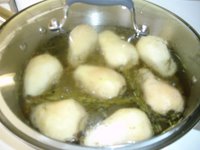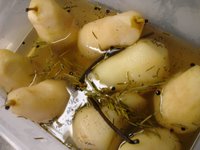 First, I washed a dried the pears and rosemary (1). Then, in a large saute pan, I combined the water, sugar, Riesling, rosemary, vanilla bean, and peppercorns. (2)
I then peeled the pears, leaving the stems intact, and using a melon baller removed the part at the bottom. Forelle pears size make them hard to core, so I didn't core them completely. I cut off any bad parts of the pears and placed them in a bowl filled with cold water.
Once all 8 pears were peeled and ready, I went back to the stove and put the pan over medium heat, stirring, until the sugar completely dissolved. (3) I added the pears (4) and turned up the heat to bring to a boil, turning the pears occasionally (with my fingers and spatula.) After it came to a boil, I reduced the heat to medium-low to a simmer and covered the pan (5), occasionally checking on the pears for tenderness for about 20 minutes. Then I removed the pan from the heat until the syrup cooled a bit.
I then placed the pears in a container and poured the syrup over them (6) and refrigerated them, uncovered until dessert time!